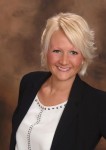 (Benton Harbor, MI-August 17, 2015) - Kristi Kissinger and Associates, LLC, a certified Legal Nursing Consulting firm is open for business as of July 21, 2015. The new start-up will work with lawyers summarizing medical records for their medical cases including record review; translation services for medical terminologies and diagnoses. The mission of the newly launched business is: Registered nurses dedicated to providing the facts based on years of experience to the legal system. Founder Kristi Kissinger, is a registered nurse specializing in Emergency Medicine and Forensic Nursing.
As a nurse, Kissinger has had a growing personal interest in the connection between law and health care. "I decided to further my education and open my own consulting business," explained Kissinger. As a new entrepreneur, she needed help and worked with the Women's Business Center (WBC) at Cornerstone Alliance. "The WBC has been such a huge support during my transition from floor nursing into the business world," said Kissinger. "They guided me and encouraged me throughout this process-I cannot say enough about the team."
Kristi Kissinger and Associates, LLC is open Monday through Friday 8:00 am to 4:00 pm. To learn more about Kristi Kissinger and Associates, LLC, call (269) 861-5228.