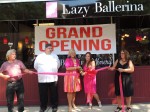 (August 6, 2015-Benton Harbor, MI) The Lazy Ballerina Winery, a wine tasting room featuring 12 local wines and food pairings, at 315 State Street, St. Joseph, Michigan celebrated their grand opening on Thursday, August 6, 2015 at 4:00 pm with representatives from the City of St. Joseph, St. Joseph Today, Cornerstone Chamber of Commerce and the Women's Business Center (WBC) at Cornerstone Alliance and Senator John Proos' office. Winery owners, business partners and cousins, Melanie Owen, and Lauren Kniebes officially opened their doors on June 25, 2015. A grand opening public celebration is scheduled for Friday, August 7, 2015 from noon to 7 pm at the Winery where the public is invited to attend and enjoy door prizes, special discounts and more.
Owen and Kniebes, both from Coloma, Michigan are no strangers to the winemaking business. They experienced first-hand from their grandmother the art of harvesting grapes from their family farm and both enjoyed careers in the wine industry. The duo always knew that launching their own business focused around local wines was something that would eventually happen.
Owen was a 2013 graduate of the Promoting Opportunities for Women Entrepreneurs Program (P.O.W.E.R.) offered by the Women's Business Center at Cornerstone Alliance. P.O.W.E.R. is an 11-week program set in an interactive environment where female entrepreneurs learn everything from marketing to financing. "P.O.W.E.R. inspired me to take the knowledge and business connections I made to pursue the opportunity to open what is now the Lazy Ballerina," said Owen. "The WBC team has been such a strong support system to us during the entire process. We certainly could not have done this without them."
The Lazy Ballerina is also benefitting from the Cornerstone Alliance Rent Subsidization Program; designed to supplement first entrepreneur's first year's lease. Greg Vaughn, Cornerstone Alliance's Chief Operating Officer and Vice-President, Business Development said, "Recognizing that cash flow is usually a challenge for start-up businesses, this program helps to minimize operating expenses; reducing some of the financial burden experienced in the first year of business."
For more information on the Lazy Ballerina, please visit their website www.lazyballerinawinery.com; find them on Facebook; or call them at (269) 363-6218. They are open daily noon-6:00 pm and by appointment for evening events.