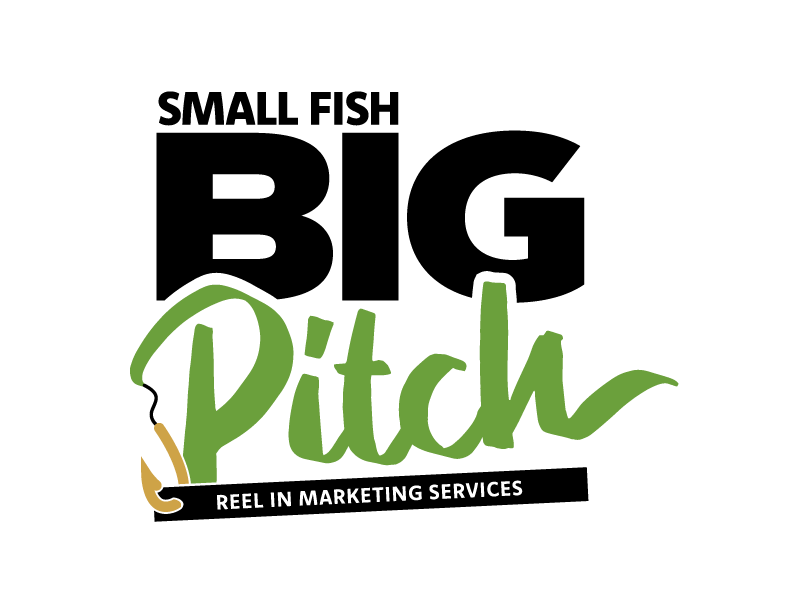 About the Competition
You have a small business, but you lack the capacity, resources, or time to market it effectively. In today's business climate marketing is one of the biggest challenges that small businesses are experiencing. An enterprise needs marketing to grow like a fish needs water to survive!
Holt Bosse, in partnership with Cornerstone Alliance and the Women's Business Center at Cornerstone Alliance, launched the Small Fish, Big Pitch competition to help support local small businesses.
Three businesses will be awarded one of the following packages to use toward its individual marketing needs:
Big Fish Award - $50,000 - Eligible business operating for 6 years or more
Small Fish Award - $30,000 – Eligible business operating for 1 to 5 years
People's Choice Award - $20,000 – Event favorite chosen by attendees
Small business owners will compete before local celebrity judges for the opportunity to receive in-kind marketing services from Holt Bosse to be used within two years. Services include but are not limited to website creation, digital marketing and advertising, photography, and more. A variety of sample packages are included in the section below.
Sample Marketing Service Packages
Application
Apply July 1, 2021 through August 1, 2021. Click below to be redirected to the official Small Fish, Big Pitch application.
(Note: The quality of your materials will not negatively affect your application)
Application criteria:
• Small business in Berrien, Cass, or Van Buren County
• At least 1 year old with sales
• Privately owned and in good standing with the State of Michigan
• For profit entity (Not for profits and 501c3 organizations are ineligible)
• Attach materials such as, but not limited to, a pitch deck, lean canvas, business plan, etc.
• Attend a Learn, Know, Grow: Intro. to Small Business Services orientation and workshop
• Be prepared to tell your business's story
• Pitch experience is not required! All genders, ethnicities, races, and backgrounds are welcome!
Businesses will be evaluated on the following:
• Growth potential
• Community involvement and Impact
• Sustainability
• Uniqueness in the market

For inquiries please contact Brandon Campbell, Director of the Women's Business Center at Cornerstone Alliance, atThis email address is being protected from spambots. You need JavaScript enabled to view it..
Additional Resources
Business Plan Presentation Template
Thank you for your submission. A representative will be in contact soon.
Thank you for your interest in The Women's Business Center at Cornerstone Alliance!
The Women's Business Center at Cornerstone Alliance (WBC) provides one-on-one business counseling, technical assistance and trainings for women, men, minorities, veterans and low-income individuals in Berrien, Cass, and Van Buren Counties. The WBC is a grant program partially funded through the U.S. Small Business Administration and the generosity of Cornerstone Alliance investors.
Each year, the WBC hires Independent Contractors (individuals and/or organizations) from the community to provide unique programming that supports and educates entrepreneurs on such topics as marketing, business finance, taxation and law, human resources, etc. We are looking for subject matter experts to instruct/facilitate classes in business related topics.
Benefits of being a WBC session expert:
Your name and logo listed as the expert on all event advertising - e-blasts, social media, website and newsletter
You'll establish brand awareness within the small business community in SW MI
You can give out literature or promotional goodies to attendees
You will have the opportunity to connect with potential new clients during the session and outside of the session during your complimentary consultation
You'll receive a list of attendees and their email addresses immediately following the session
Contractor Guidelines: Persons and/or organizations chosen to work for the WBC as an Independent Contractor must meet the following criteria:
Must have a proven track record of subject matter expertise in their chosen field/topic.
Must be eligible to contract with the Federal Government (not on the Federal Debarment list)
Must be in good standing with the State of Michigan Department of Licensing and Regulatory Affairs (LARA), the Michigan Secretary of State, and the Better Business Bureau.
The WBC serves Berrien, Van Buren, and Cass Counties in Michigan. Preference will be given to experts who live in those areas or who are from Michigan.
Must be comfortable working with and speaking in a respectful manner to women, racial and ethnic minorities, veterans, LGBTQ, disabled, and low-income people.
Must not use this opportunity as a sales pitch.
Must understand that this application does not constitute a contract for employment. The WBC at Cornerstone Alliance reserves the right to refuse any sale/service for any reason
If you are interested in working as an Independent Contractor for the WBC, please complete this application and submit the required supplemental materials to Brandon Campbell, Director of the Women's Business Center at Cornerstone Alliance, at This email address is being protected from spambots. You need JavaScript enabled to view it.
Session Proposals
Earlier this year, the WBC surveyed clients on their top challenges. From the results, the WBC will plan programs that address the specific needs of entrepreneurs and train them toward success. However, the WBC is open to ideas for a class, so we encourage all subject matter experts to submit a proposal.
You will be notified via email once completed application is received. If your proposal is accepted and you are being considered as a subject matter expert to teach a training, you will be notified by a WBC staffer.
Request For Quote
Throughout the year, the WBC produces programs for small, women and minority businesses to help them start and grow. To successfully deliver products and services that meet their needs, the WBC is looking to do business with suppliers who specialize in various areas. To provide an accurate evaluation, please attach all electronic files, prints, samples, and customer references. Business owners must be in good standing with the state in which they are located and not be on U.S. Small Business Administration's disbarment list.
Subcategories
Goldman Sachs is Now Accepting Applications for its 10,000 Small Business Program
Goldman Sachs is now accepting applications for its 10,000 Small Businesses program!. The early decision deadline is March 2, 2020.
---
Goldman Sachs is Now Accepting Applications for its 10,000 Small Business Program

Dear Small Business Owners,
Goldman Sachs is now accepting applications for its 10,000 Small Businesses program!. The early decision deadline is March 2, 2020.
To nominate a small business in your community click here, or applicants can apply directly at www.10ksbapply.com for the upcoming Fall 2020 Cohort.

Goldman Sachs 10,000 Small Businesses is a program to help entrepreneurs create jobs and economic opportunity by providing access to education, capital and business support services. The program will provide scholars with tools and practical business education to continue growing their business to new heights.

Through the Goldman Sachs Foundation, the program is offered at no cost to the business owner.
Within 6 months of graduating, 67% of scholars reported increasing revenues and 47% of scholars added new jobs.
During the program the scholars will develop a growth plan - a strategic and tactical implementation to guide their business growth.
Through a combination of online classes and professional workshops at Babson College, scholars will learn from some of the brightest minds in the business and build a powerful network of professional support.
For more information about the program, visit the website where you can watch testimonial videos from alumni of the program, and see the impact of the program on small businesses across the country.
Questions? Contact the WBC at 269-925-6100.